This is a fast and delicious recipe for Pepperoni Pizza using Kontos crust. The crust 'Hand-Stretched for Fluffiness™', and contains no Trans Fats; it's 100% Vegetarian.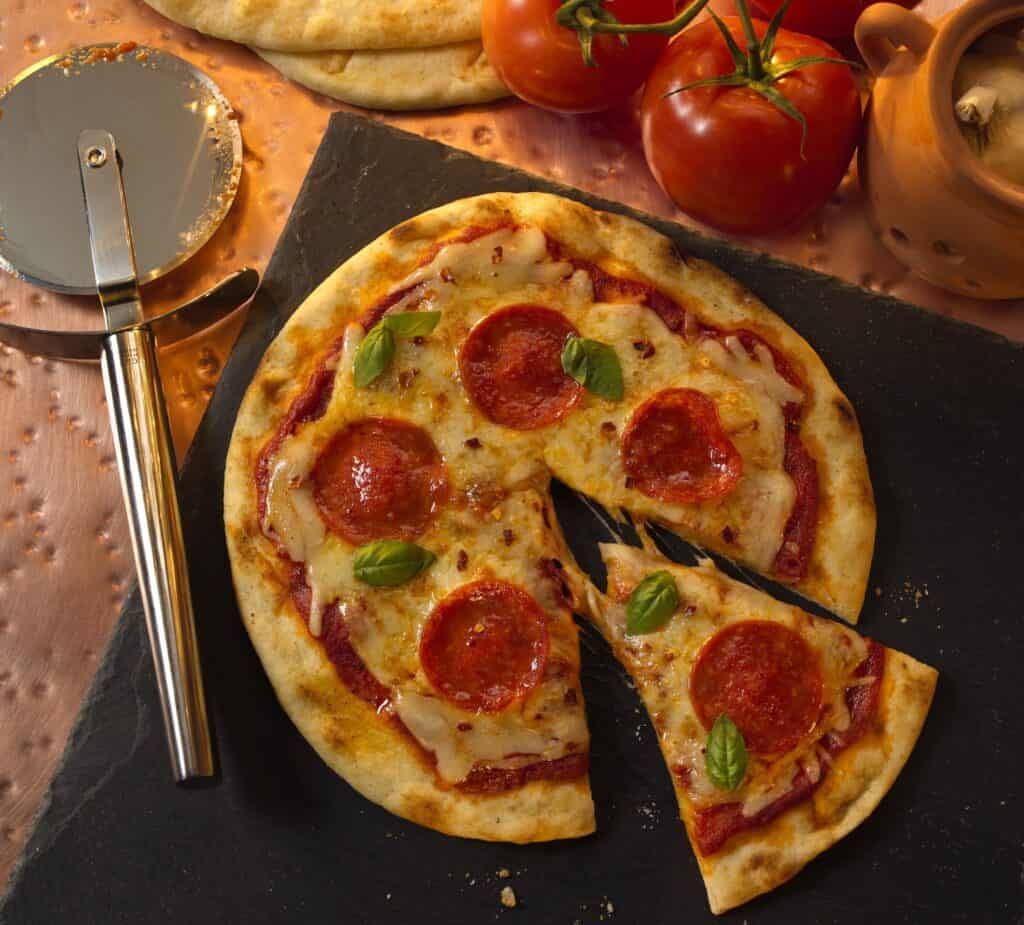 Ingredients
1

Kontos 9-inch Pizza Crust with Olive Oil

or Kontos 7-inch Pizza Crust

Store‐purchased canned Pizza sauce

Mozzarella cheese, shredded

Pepperoni, sliced
Optional
Dry oregano leaves (for garnish)

Fresh basil leaves (for garnish)
Instructions
Assemble your pizza by applying: 3‐4 spoonful of tomato sauce (for the 9‐inch pizza) or 2 spoonfuls for the 7‐inch).

Cover the tomato sauce with the shredded mozzarella. Then add the pepperoni slices. (If you wish, you may sprinkle some dry oregano leaves over the top.)

Carefully place the pizza onto the pizza stone/cookie sheet/cast‐iron skillet on the bottom rack.

After 5 minutes, check the pizza to see if the cheese has melted and if the bottom of the crust is crisp. If satisfied with the results, remove the pizza from the oven. (If you wish, you may sprinkle some fresh basil leaves over the top.)
Notes
Method: (Generally, the hotter the cooking surface that the pizza is placed on, the better the pizza will be. If cooking on a 'pizza stone', cast‐iron skillet, or even a cookie‐sheet, place on the bottom rack of the oven and allow to get 'really hot'.)
Chef's Tips:
1‐ Half way through the baking, you may remove the pizza from the oven and brush the exposed edges of the Flatbread, and brush them with butter or oil, and return to the oven to complete the baking. This will cause the Flatbread to bake to a darker color and remain softer.
2‐ This recipe is a basic pizza recipe. You may substitute vegetables, other meat (chicken, beef, sausage, etc.), as well as cheeses.
Nutrition