2 Lucky Winners Will Receive Fresh Fillo Dough & Ingredients* For a Private Virtual Pastry Class With Kontos' Corporate Executive Chef
National Baklava Day is Nov. 17, and Kontos Foods is celebrating with a Baklava Bonanza: Giveaway & Virtual Baking Class. Baklava, which is traditionally prepared for religious holidays in November and December, is a rich cake made of layered Fillo, and nuts, baked and then drenched in honey.
Two lucky winners (one from Instagram and one from Facebook)) will be randomly selected to receive several boxes (16 oz.) of FRESH Kontos Fillo No. 5 dough, along with select, non-perishable ingredients* to use in this recipe for Baklava.
At a mutually agreeable time by December 13, those two winners will be invited to attend a private Baklava tutorial with Kontos Foods Corporate Executive Chef Demetrios Haralambatos via Zoom.
About Chef Demetrios: Kontos Foods Corporate Executive Chef Demetrios Haralambatos is a classically trained chef, a food historian and food writer, and frequent lecturer on a variety of food topics. For the past 25 years, he's been the top chef at Kontos Foods, Inc., a Paterson, N.J. – based manufacturer and distributor of traditional artisan breads and Mediterranean specialty foods. He has earned the title of Archimagiros; is a Founding Member of the Research Chefs Association; the Development Director for SkillsUSA-NJ; a member of the Culinary Advisory Board for the Culinary School at Eva's Village; former Culinary and Hospitality Artist in Residence at Princeton University; former National Ethnics Co-Chairman of the American Culinary Federation; Past President of the Professional Chefs Guild of Central New Jersey-ACF; former Culinary Liaison to Greece and Cyprus for the World Association of Cooks Societies; inducted in Les Amis d'Escoffier Society; inducted in the Confrérie de la Chaîne des Rôtisseurs as a Maitre Rotisseur; member of Leshi Argimagiron, Greece.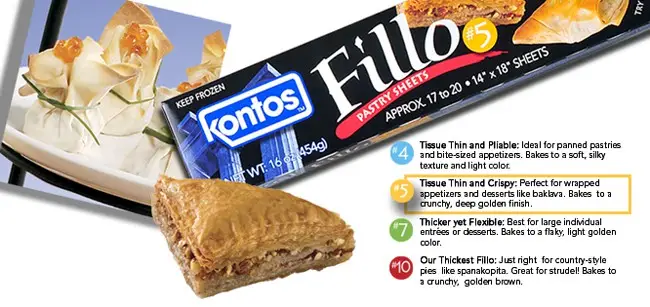 About Kontos Fillo Dough: Kontos Fillo Dough comes in four thicknesses (#4, #5, #7 and #10): From our tissue thin #4 Fillo, to our thickest and strongest yet, #10 Country-Style Fillo, our range of thicknesses adds a new dimension to your culinary creativity and the finishing touch to your sweet desserts, savory appetizers, and entrees. Try our Kataifi to add beautiful birds' nests and delicate pastry decoration to your creations. Fillo #5 is thin and crispy and perfect for wrapped appetizers and desserts such as baklava. It bakes to a crunchy, deep golden finish. Kontos Fillo is also larger than most leading brands. It comes in 14″x18″ sheets, allowing you to easily make large strudels and baklavas. Our Fillo is Kosher and Halal Certified.
Rules
Be following Kontos Foods
Tag friends for bonus entries
Two lucky winners: One randomly selected from Facebook and one randomly selected from Instagram
No purchase necessary.
Making a purchase does not increase your chances of winning.
The contest runs from Nov. 12, 2020 through noon midnight ET on Nov. 17, 2020.
Winners will be notified by DM or Instant Messenger.
If we don't hear back from a winner by noon ET on Nov. 18, 2020, a new winner will be selected and notified.
The competition is void where prohibited.
This contest is not endorsed, sponsored or administered by Facebook, nor is Facebook associated with this contest. Facebook is not responsible for entrants or participants.
Residents of the U.S.; 18 and older.
Virtual Baking Class will be recorded and later shared on social media as well as the Kontos website. Kontos owns all rights to the content and reserves the right to share it.