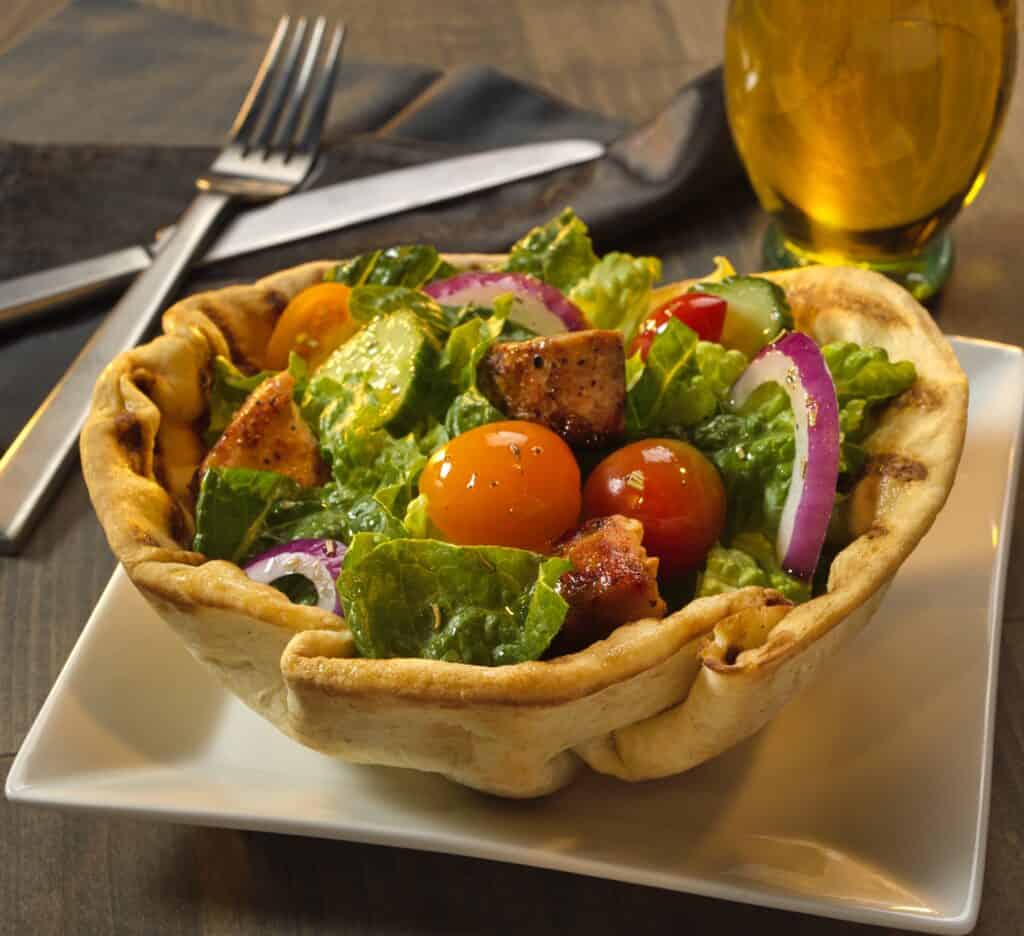 Equipment
1 7‐inch stainless‐steel mixing bowl

1 6‐inch stainless‐steel mixing bowl

Meat thermometer
Ingredients
Kontos 9‐inch Pre‐Grilled Flatbread (room temperature)

Vegetable non‐stick oil spray

Kontos Chicken Souvlaki/Kabob
For the Salad
Romaine lettuce

Cherry tomatoes, chopped

Red onion, sliced

Half cucumber, cut in rings

Oil & vinegar salad dressing
Optional
Parmesan cheese, grated (as a salad topping)
Instructions
Place the 7‐inch bowl on your counter and spray the inside of the bowl with your vegetable spray. Insert a loaf of the Kontos 9‐inch Pre‐Grilled Flatbread into it with the pre‐grilled marks facing you, and carefully fold the outer‐edges and press them onto the interior of the bowl.

Take the 6‐inch bowl and spray the outside of the bowl with vegetable spray, then carefully, insert that bowl into the 7‐inch bowl with the Kontos Flatbread inside and squeeze both bowls together and place the bowls (upside down) in the middle rack of your pre‐heated oven.

After 5 minutes carefully remove the bowls from the oven, and allow them to rest/cool on your countertop.

Grill or bake the Kontos Chicken Souvlaki/Kabob. (Note: if cooking the Chicken in the oven, place on a baking rack to catch all the dripping on your cookie sheet.)

Meantime, remove the outer‐bowl from the Kontos Flatbread and place on plate.

When the Kontos Chicken Souvlaki/Kabob has reached an internal temperature of 160°F, removed from the grill/oven, and carefully remove the chicken from the skewer and add to the bowl with the salad. Add your salad dressing and combine, then place the contents into the molded Kontos Flatbread.